The Studio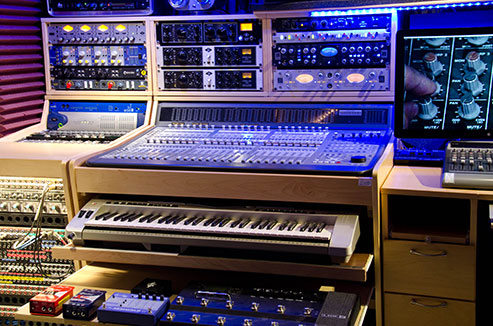 • In the Recording Studio we have state of the art analog & digital equipment
• The Upper Room is a well equipped studio with a wide selection of guitars, amps,
keyboards, microphones, sound modules and effects processors
• a skilled recording engineer will finalize your DVD with a
fully automated mixdown of your audio, in stereo or 5.1 surround sound
Custom Music & Sound Created Just For You
Recording is to Pro Tools with a host of world class outboard gear including
equipment by Focusrite
The Room is suitable for overdubs, demos, voice-over work and audio post.
PLUG INS

The latest state of the art plug ins create the ultimate in sound design & versatility
This control room is comfortable with wireless access available for clients.

The Studio has its own dedicated vocal booth and
we use the best recording tools to make you sound great!
We use professional grade audio workstations on Mac.
Companies of all sizes, musicians and others use our recording studios for all of their
audio, music, and voice-over production needs.