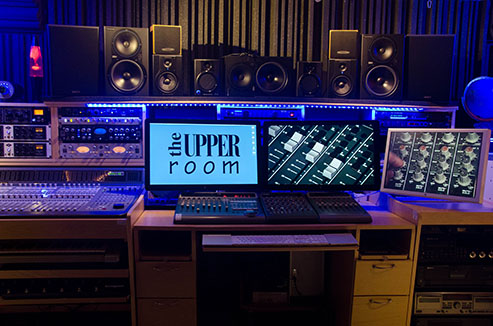 Full Service Facility
The Upper Room is a full service facility for music, mastering, voice-overs,
audio post production, Film/TV production, digital multimedia, and audio enhancement.
With over 25 years in the recording industry, The Upper Room has quality services
and staff here to help you get the finished product you are looking for.
...TV Commercials...Radio Commercials...Corporate Videos...Documentaries...
...Telephone/On Hold...Industrial Videos...Training Videos...
...Talking Audio Books......Website/Internet...Podcasts...
Corporate Audio

Let us capture your Corporate Event, we can provide Web Audio, Ads, Sales presentations, employee training media, Trade Show exhibits, sales materials, scripted interviews, in-store announcements, on hold messages and more...
Location Recording

Record Live in our Studio or at Your Location:
Special Events, Concerts, Festivals, Seminars & Training:
Mixing
Have your own tracks? Need help mixing? We can do it for you!
We provide custom mix downs of your Project...
Voice-Over

We provide affordable professional voice recording, where a voice specialist is
required to deliver your brand messaging.
Music Production

With a focus on the independent solo music artist or band, The Upper Room has the
experience to make your music production shine. Coming into the studio
we can provide talented studio musicians to contribute to your Project.
Digital Editing

With the most up to date hardware & software available The Upper Room utilizes current computer technology. 
 We use programs such as Pro Tools, Logic Pro & the latest and greatest Plug Ins providing the most advanced production for your project.
Voice Talent

Our Voice Over Talent is available to deliver your most specific voice-over
requirements, for any audio application.
Enhancement/Restoration

Audio enhancement, or sound restoration, is the process of taking an
original recording and improving the sound quality, for audio
evidence in legal matters, to restore old music recordings,or clean up
production tracks recorded in the field.
Evidence

Audio Enhancement can be a useful tool to improve the quality of an audio recording that is used as a primary piece of evidence. Oftentimes the events on a tape can contain background noise and be of poor quality, and this requires professional handling to clean and remove unwanted noise from an unintelligible recording. This process ensures that sensitive material is improved upon to guarantee the integrity of the recording, when being used to prove someone's guilt or innocence.